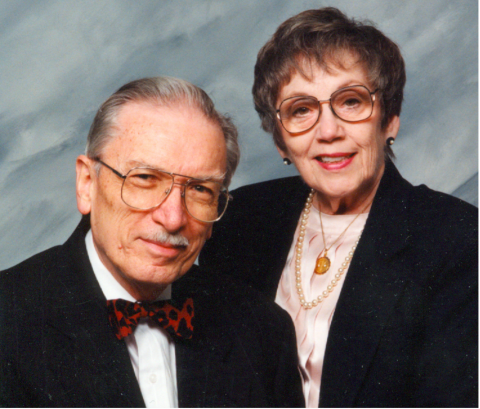 Frank Fitch, our mentor, colleague and consummate professor. Frank made enormous contributions to the academic community at the University of Chicago and beyond for over 55 years. Frank was a member of the University of Chicago faculty in the Department of Pathology, Ben May Institute (BMI) and Committee on Immunology (COI). His research was top-tier as his lab contributed to our understanding of T cell immunology, especially cytotoxic and helper T cell function (Frank was among the first to describe T cell subsets), the development of enormously valuable tools in the early days of monoclonal antibody and T cell cloning, and the field of organ transplantation (passive immunization for one). During this incredible career, Frank trained thirty-five Ph.D. and M.D. PhD. students and seven postdoctoral fellows. He taught in countless medical, graduate and undergraduate students and mentored anyone who knocked on his door.
On a national scale, Frank has been a leader in the scientific community as council member and president of the American Association of Immunologists, editor-in-chief of The Journal of Immunology and president of the Federation of American Societies for Experimental Biology (FASEB). In each of these roles, Frank was a leader in stressing the need for public education – for educating both the public and science and representatives and legislators on the importance of basic research. And of course, Frank has helped educate the world about the Hopi Indians.
Of course, many of you know that Frank credits all of his accomplishments in large part due to his partnership with Shirley, who he met in third grade, started dating in high school and as husband and wife for something like 65 years. His marriage and collegiality transcend his other contributions and tells us about the man and his commitment to a life of contribution, sacrifice, love and friendship.
The Frank W. Fitch Symposium is sponsored in memory of Frank W. Fitch, MD, SM, PhD, by the Frank W. and Shirley D. Fitch Lectureship Fund in The Ben May Department for Cancer Research of the University of Chicago's Biological Sciences Division.
When: October 17, 2022, 8:30 am - 5:00 pm
Where: Reva and David Logan Center for the Arts
Performance Hall
915 E 60th Street
Chicago, IL 60637
Speakers:
Dr. Jeffrey Bluestone
Dr. Patrick Fields
Dr. Francesca Fallarino
Dr. Thomas Gajewski
Dr. Geoffrey L. Greene
Dr. Mary Markiewicz
Dr. Andrea Sant
Dr. Craig Thompson
Dr. Arthur Weiss
Agenda:
| Time | Agenda Item |
| --- | --- |
| 8:30 | Continental breakfast |
| 9:15 | Opening comments |
| 9:30 | Arthur Weiss – "Signaling mechanisms and ligand discrimination by the TCR" |
| 10:00 | Andrea Sant – "CD4 T cell immunity to the respiratory pathogens Influenza and SARS-CoV-2" |
| 10:30 | Coffee break |
| 11:00 | Thomas Gajewski – "From T cell regulation to cancer immunotherapy" |
| 11:30 | Mary Markiewicz – "Unexpected roles for NKG2D in autoimmune diabetes" |
| 12:00 | Francesca Fallarino – "From intuition of multifactorial control of tumor environment to the identification of regulatory nodes" |
| 12:30 | Lunch |
| 1:30 | Jeffrey Bluestone – "Immune Tolerance: Traveling on the long road towards finding the Holy Grail" |
| 2:00 | Geoffrey Greene – "Developing effective therapies for Mutant ER+ Metastatic Breast Cancers" |
| 2:30 | Coffee break |
| 3:00 | Patrick Fields – "Identification of a DOT1L methyltransferase-independent role in murine embryonic erythropoiesis" |
| 3:30 | Craig Thompson – "The role of immunometabolism in anti-tumor immunotherapy" |
| 4:00 | Reception |
Organizing Committee:  Thomas Gajewski, MD, PhD and Geoffrey Greene, PhD
In Frank's memory, we are raising funds for the Frank Fitch Endowed Scholarship Fund, which supports PhD students – a fitting way to perpetuate his legacy. Please consider joining us and make a gift here.
Persons needing assistance should contact jbooker@uchicago.edu.
Register:
RSVP through the online form linked below by 10/10/22
When: Wednesday, October 2, 2019 4:00pm - 5:00pm
Where: Biological Sciences Learning Center, Room 109
Description: The Frank W. & Shirley D. Fitch Lecture
Contact: Ben May Institute for Cancer Research
When: September 24, 2018
Where: Gwen and Jules Knapp Center for Biomedical Discovery
900 E. 57th St., Room 1103
Agenda:
Engineering the Cancer Genome
Presented By:
Tyler Jacks, Ph.D.
Director, Koch Institute for Integrative Cancer Research David H. Koch
Professor of Biology Massachusetts Institute of Technology
Daniel K. Ludwig Scholar for Cancer Research Investigator, Howard Hughes Medical Institute
When: October 2, 2017
Where: Donnelley Biological Sciences Learning Center
924 E 57th St., Room 109
Agenda:
Personalizing Cancer Immunotherapy
Presented By:
Robert Screiber, Ph.D.
Andrew M. and Jane M. Bursky Distinguished Professor, Department of Pathology and Immunology;
Director, The Andrew M. and Jane M. Bursky Center for Human Immunology and Immunotherapy Programs
Washington University School of Medicine
St. Louis, Missouri
When: October 24, 2016
Where: Gordon Center for Integrative Science
929 E. 57th St., Room W301/303
Agenda:
Regulating T Cell Antigen Receptor Basal and Inducible Signaling
Presented By:
Arthur Weiss, M.D., Ph.D.
Ephraim P. Engleman Distinguished Professor Investigator, HHMI
University of California, San Francisco
When: September 28, 2015
Where: Donnelley Biological Sciences Learning Center
924 E. 57th St., Room 115
Agenda:
Four Horsemen of the AnD-Apocalypse
Presented By:
Tak Mak, Ph.D.
Director, Senior Staff Scientist, Professor Medical Biophysics and Immunology
The Campbell Family Institute for Breast Cancer Research at Princess Margaret Cancer Centre, University Health Network
Hosted by Tom Gajewski.
Dr. Tak W. Mak is a Professor in the Department of Medical Biophysics and the Department of Immunology at the University of Toronto; the Director of the Campbell Family Institute for Breast Cancer Research at the Princess Margaret Cancer Centre; and a Senior Scientist at the Ontario Cancer Institute. He received a B.S. and M.S. from the University of Wisconsin, Madison and a Ph.D. from the University of Alberta. Dr. Mak is internationally recognized for his work on the molecular biology of cancer and the immune system. In 1984, he identified the human genes encoding the T cell antigen receptor. Subsequently, he pioneered the use of genetically engineered mouse strains to identify genetic susceptibility factors associated with various immune disorders and different types of cancer. In particular, in 1995 his group demonstrated that CTLA-4 is a negative regulator of T cell activation, helping pave the way for the development of anti-CTLA-4 antibodies for the treatment of cancer. Additionally, Dr. Mak's group made major contributions to elucidating the functions of the protein encoded by the PTEN tumor suppressor gene and dening the relationship between the breast cancer susceptibility genes BRCA1 and BRCA2 and defects in DNA repair. Most recently, Dr. Mak's work has focused on the study of the functions of various gene products in normal and cancerous cells, yielding new insights to facilitate the identification of new drug targets and the development of more effective cancer therapies. He has received many honors and awards, including The Gairdner Award, The King Faisal Prize, The Sloan Prize, and The Paul Ehrlich Prize. He is a Fellow of The Royal Society of London and a Foreign Associate of the National Academy of Sciences (USA), and has been named to the Order of Canada and the Order of Ontario.
When: October 6, 2014
Where: Donnelly Biological Sciences Learning Center
924 E. 57th St., Room 115
Agenda:
Immunology Taught by Human
Presented by:
Mark Davis, Ph.D.
The Burt and Marion Avery Family Professor of Immunology
Director, Stanford Institute for Immunity, Transplantation and Infection Stanford University